%@ Language=JavaScript %>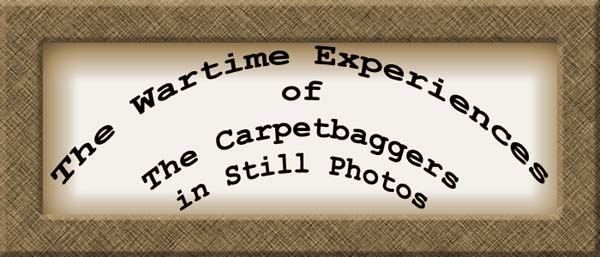 36th BS
Broten Crew
The crew are shown below prior to overseas movement in early 1944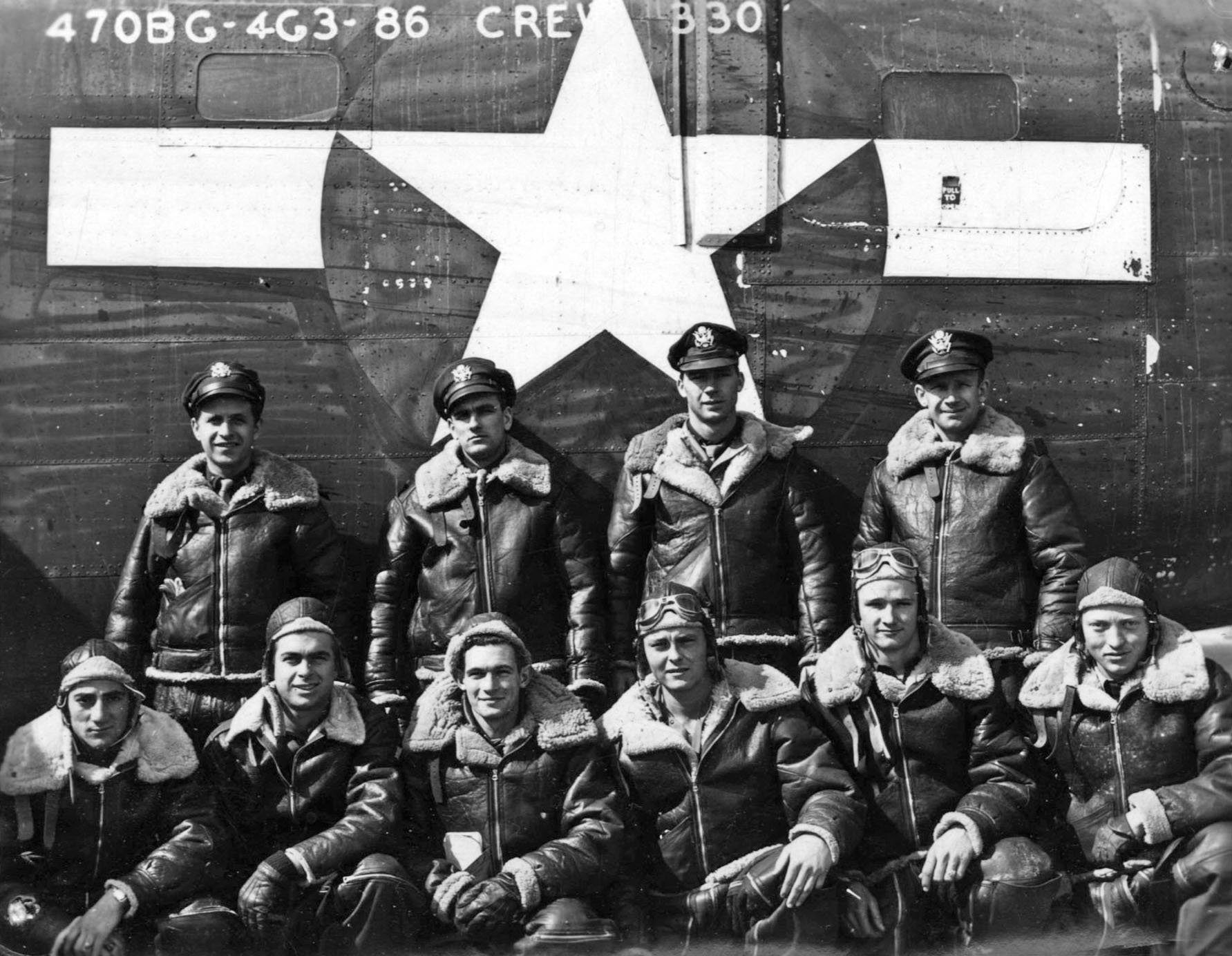 The crew are shown below at Harrington, Station 179 in the spring of 1944.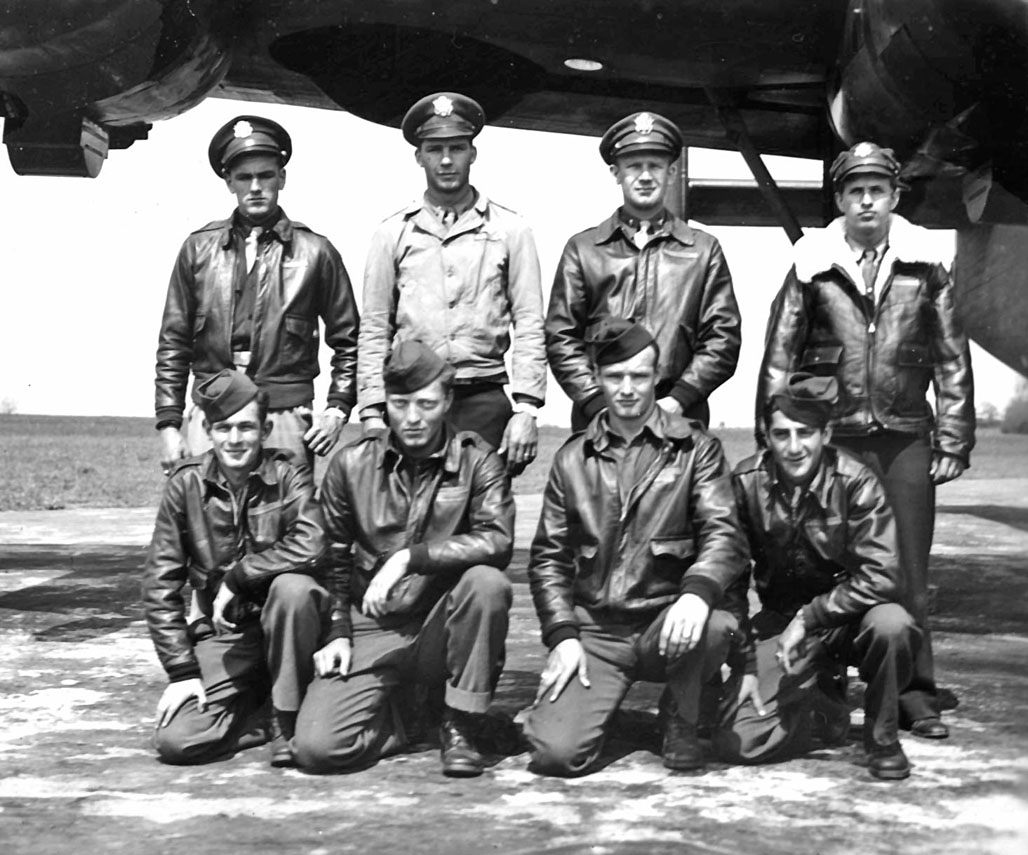 Picture above was taken before Alfred Emert replaced Zuckerman as Bombardier. A complete listing of the crew's casualties is on the Honor Roll page, Tappan was the only survivor. Emert also appears on the Jackson crew page.

Os:
John C. Broten - Pilot ASN 01574610 (KIA)
Alfred C. Emert - Bombardier ASN 0688180 (KIA) Replaced Zuckerman
Roy C. Gehue - Navigator ASN 0707382 (KIA)
Edward Tappan - Copilot ASN 0762019 (Evader)
Joseph Zuckerman - Bombardier ASN 0696299 Replaced by Emert

EMs:
Edgar G. Bryant - Engineer ASN 38417741 (Orphaned)
Jessie R. Ellis - Gunner ASN 18098768 (KIA)
William Freidkas - R.O. ASN 32860380 (KIA)
Calvin L. Hicks - Engineer ASN 34608436 (Orphaned)
Michael J. Pranzetelli - Gunner ASN 31331737 (KIA)
Harry L. Sparks - Engineer ASN 34708160 (KIA)


Status: A replacement crew, arrived at Harrington in early May 1944.
Evasion Period: Tappan, 5Jul-16Aug 1944
Errata: Though both of the orphaned crew members remained at Harrington at least through August 1944, neither flew any combat missions.
Incident Aircraft: B24D 42-72873 "Star Spangled Hell"
Former 44th BG plane, came to Harrington sometime after 12 May 1944. Flown once each by Deano (first combat mission for the plane at Harrington) and Wright of the 850th BS in June of 1944. Flown by Ellis on the night of 12/13 June 1944. Never named when with the Carpetbaggers. Decker flew it once, and Broten flew it twice that July, meeting his misfortune and that of his crew on the second mission. Shot down by a German Me110 on their tenth mission and crashed at Trancainville, Eure-et-Loir, France.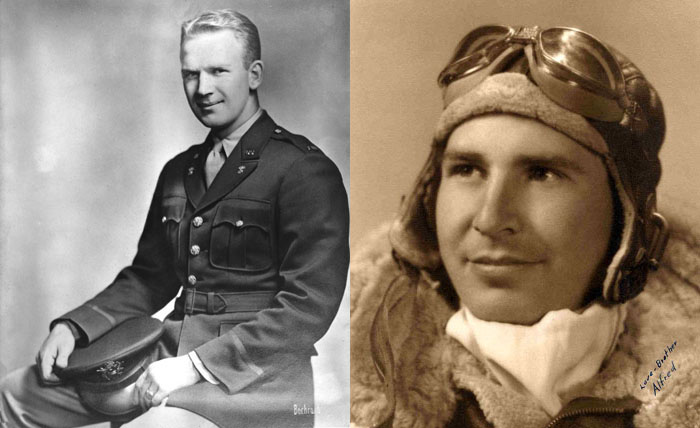 Above,L-R: Broten, Emert
Additional crew data sources:
Broten Crew Personnel Files
Broten Crew Mission Reports
MACR 6990
Incident Summary
Honor Roll Cards of the crew
Oscar Broten's correspondence
Alfred Emerts' papers
Edward Tappan's papers
John Hey's Incident Summary
Group-Related Downloads:
801st/492nd Personnel Mission Report Index(Jan-Sep44)
AAFRH-21 "AAF Aid to European Resistance"
"Carpetbaggers" by Parnell
"They Flew by Night" editor Robert Fish
Serial Number Index of B24s
Station 179 Operations Log (handwritten Apr44-Jul45)

Available on Request:
Group Mission Reports Jan-Sep44 (On disk $12ea - $10ea via Paypal)
"Chronology of SOE Operations with the Resistance In France During WWII" by Foot & Boxhall
"Spies,Supplies & Moonlit Skies Vols 1&2" by Ensminger (On disk $12ea - $10ea via Paypal)