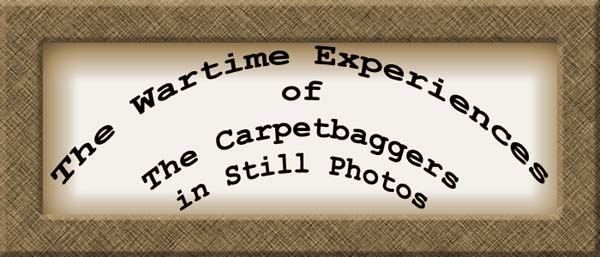 856th BS
Polansky Crew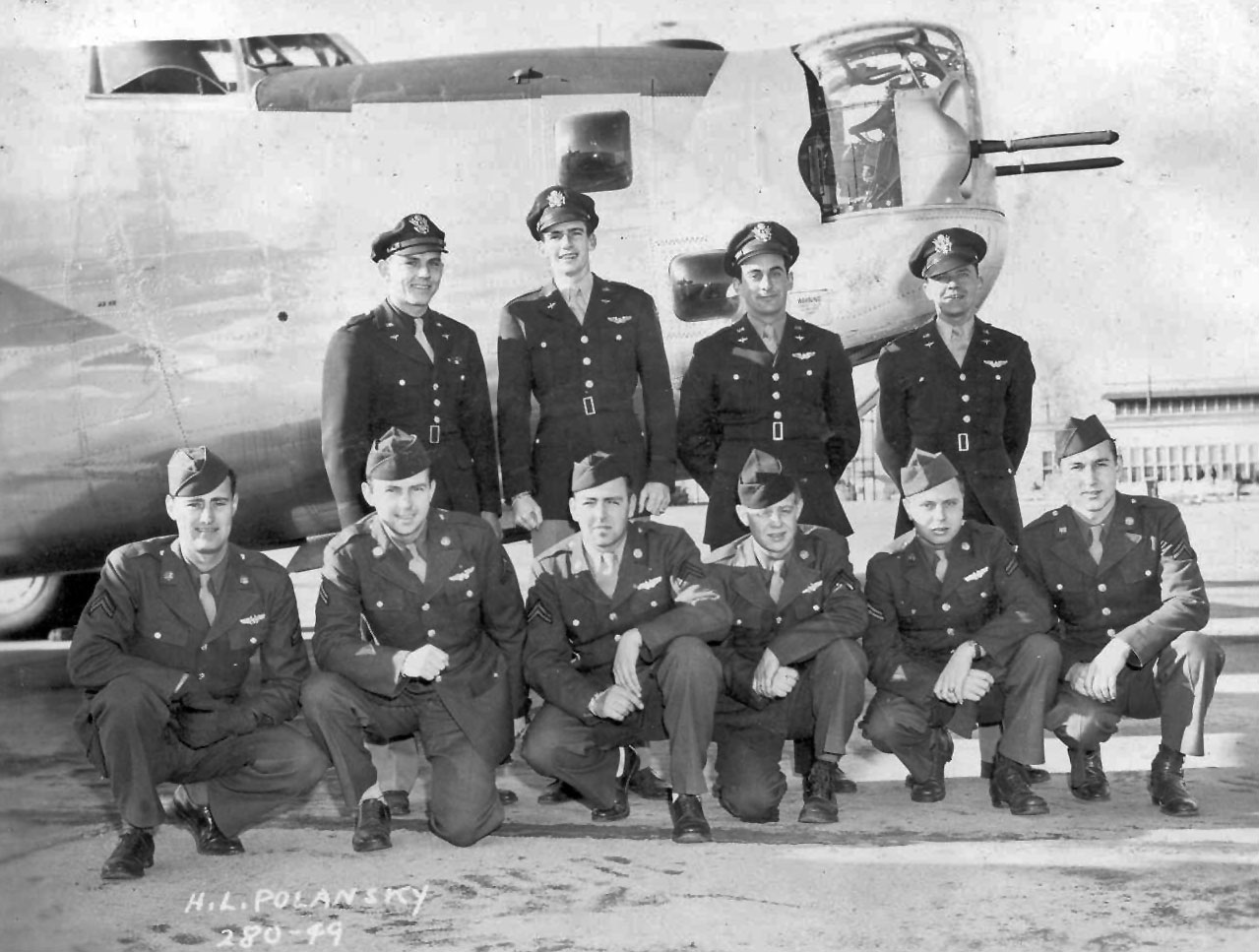 The crew are pictured above prior to deployment to the ETO. Faces have not been matched to names yet, names transcribed from Special Orders #24, dtd 3Feb45. The Prilliman crew arrived on the same set of orders. On the night of 30/31 March 1945 the crew crashed in the Orkney Islands killing all onboard but Peter C. Pulrang, who had subbed for Lancaster. Personnel shuffles had altered crew composition for the flight, leaving some of the crewmen without crew. The crash was the largest loss of life (13) in the Group during the war.
Os:
Henry L. Polansky - Pilot ASN 0721858 (KIA) Grave Marker
John K. Lancaster - Copilot ASN 0928914
Peter C. Pulrang - Copilot ASN 0824211 (WIA)
Charles J. Allessio - Navigator ASN 0721858 (KIA)
Frederick W. Smickle,Jr. - Bombardier ASN 0785613 (KIA)

EMs:
Thomas E. Houseman,Jr. - R.O. ASN 33729594
William E. Lewis,Jr. - Engineer ASN 39120406 (KIA)
William D. Almaraz - Gunner ASN 16107205
Eugene J. Graf,Jr. - Gunner ASN 33750770 (KIA)
Edward W. Kussman - Gunner ASN 37261765 (KIA)
Robert L. Rinker - Gunner ASN 39218306
William K. Stevens - Engineer ASN 31268922 (KIA)
OSS Agents:
Trygve Berge ASN 39031393 (KIA)
Edward E. Kjelness ASN 39230883 (KIA)
Leif E.K. Meland ASN 32869494 (KIA)
Gerald Ottersland ASN 32624142 (KIA)
Johannes S. Nørvick ASN 37311880 (KIA)
Eddie O. Sondeno ASN 39614907 (KIA)
ASNs so-colored for EMs link to their NARA Enlistment Record.
Additional Crew Data Resources:
Polansky Crew Personnel cards
Polansky Crew Honor Roll cards
Polansky Crew Accident Reports
Polansky Crew additional Photos
Polansky Crew Newspaper articles
Group-Related Downloads:
"Carpetbaggers" by Parnell
"They Flew by Night" editor Robert Fish
Serial Number Index of B24s
Station 179 Operations Log (handwritten Apr44-Jul45)
Station 179 Operations Log (transcribed Sep44-Jul45)

Available on Request:
Group Mission Reports Jan-Sep44 (On disk $12ea - $10ea via Paypal)
"Chronology of SOE Operations with the Resistance In France During WWII" by Foot & Boxhall
"Spies,Supplies & Moonlit Skies Vols 1&2" by Ensminger (On disk $12ea - $10ea via Paypal)
Redirect to: Crews Main Agents Honor Roll