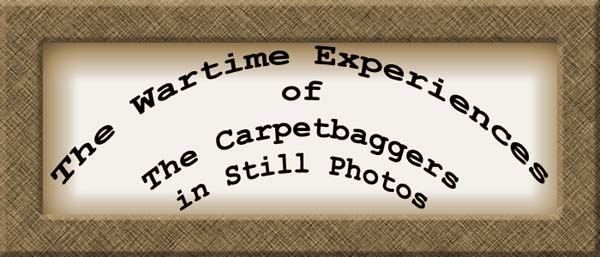 406th/858th BSs
Rudolph Crew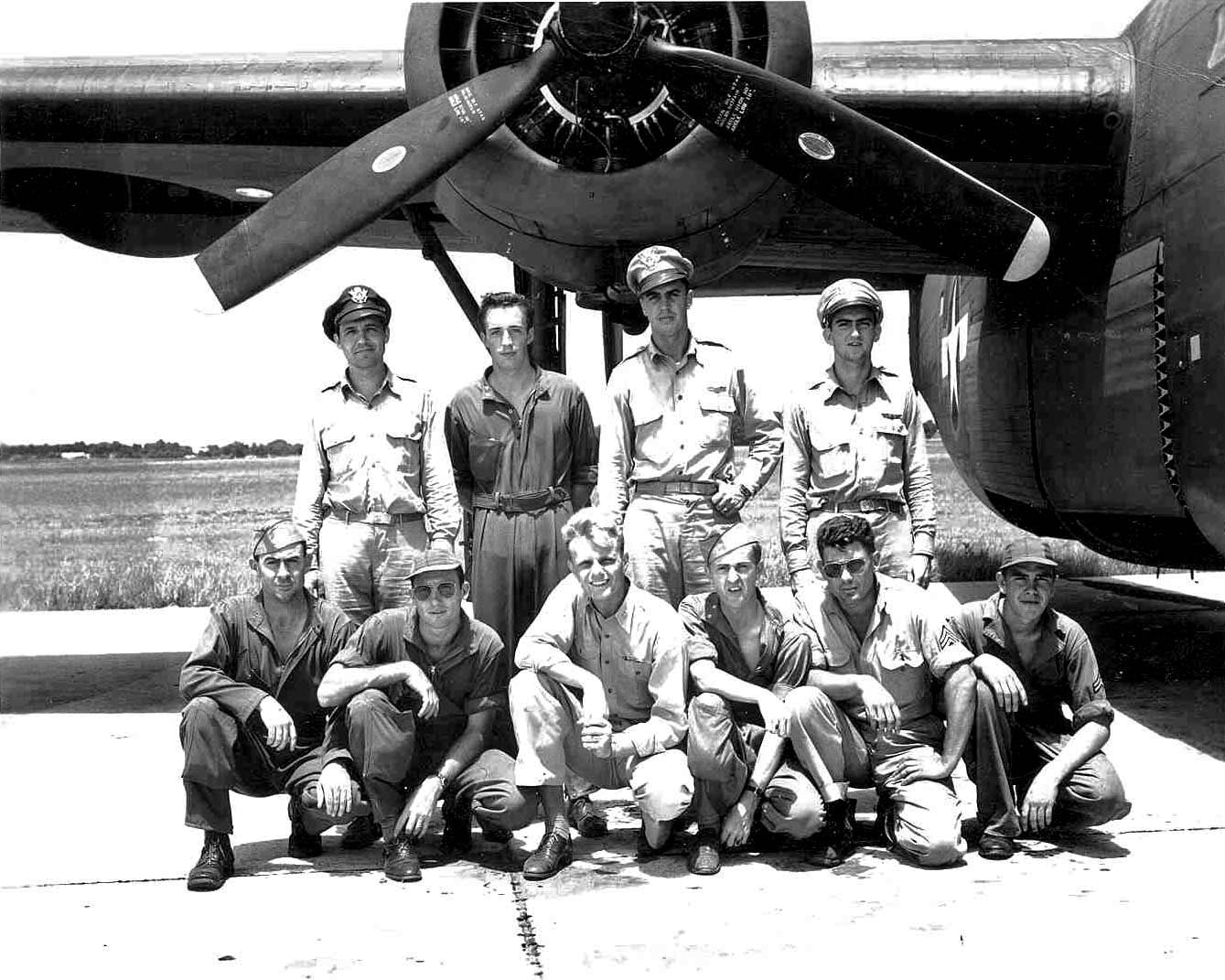 Rudolph's Anti-Submarine crew is shown above at Langley AFB in August of 1943. Of the nine men identified in the photo, Baker, Eaton, Matt, Cowart, Hardesty and Lawrence would fly a pro-rated number of missions with the Carpetbaggers because of their many hundreds of hours of ASW patrols. Matt was first to leave Harrington, in mid-June of 1944. Yates and Pohl flew no Carpetbagger missions.
Standing, L-R:
James W. Baker - Bombardier (20 missions)
Rodney W. Eaton - Asst RO (22 missions)
Frederick Pohl - Copilot N/A
Charles W. Matt - Navigator (19 missions)
Kneeling, L-R:
Unidentified
William B. Cowart - Engineer (22 missions)
Bestow R. Rudolph - Pilot (19+ missions)
Edwin H. Hardesty - R.O. (22 missions)
Milton Yates - Engineer N/A
John M. Lawrence - Gunner (27 missions)
Names and Picture Credits: Bestow "Rudy" Rudolph
Status: Original crew, but quickly broken up after the ASW period due to promotions and transfers of personnel.
The crew are shown below during the brief period prior to Rudolph becoming Operations Chief.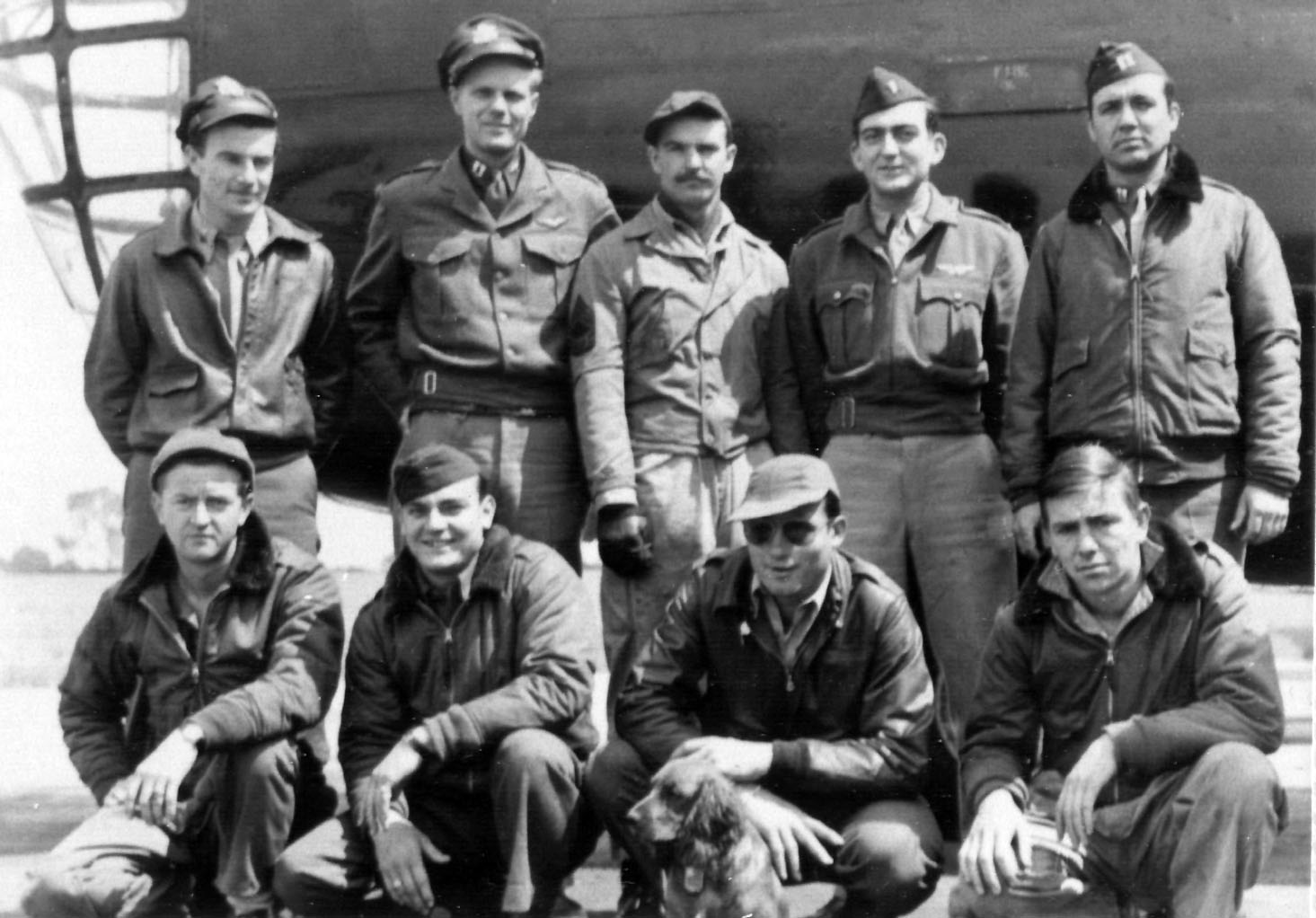 Standing,L-R:
Peyton F. Phillips - Copilot ASN 0736560
Bestow R. Rudolph - Pilot ASN 0659842
Samuel D. Braudt - Crew Chief ASN 6551371
Charles W. Matt - Navigator ASN 0660505
James W. Baker - Bombardier ASN 0733012

Kneeling,L-R:
Edwin H. Hardesty - R.O. ASN 15046628
Albert L. Bessette - Gunner ASN 11111521
William B. Cowart - Engineer ASN 14055198
John M. Lawrence - Gunner ASN 14056788
In Front:
Dog "Honey" - Mascot
ASNs so-colored for EMs link to their NARA Enlistment Record.
Rudolph became Operations Chief after Milton Love was relieved of his position. Consequently he flew fewer missions during the summer of 1944, though he did squeeze in a few C-47 missions in late August and early September of that year. In November of 1944, he was selected as pilot in the tour of OSS stations to the Far East to describe the Carpetbagger Operations in Europe as similar operations were being evaluated for the CBI at the time. Departing in November, the passengers and crew did not return until late January of 1945, having traveled to Italy, Egypt, India, Ceylon and Burma.
Rudolph and many others unidentified are in the picture below, probably taken in the autumn of 1944 and possibly at Annecy,France during an "Air Crew Recovery" effort to bring interned airmen back to the UK as they were released from Switzerland. Sitting in front is John Mead, bombardier, evader and Maquis operative as well as being awarder two Silver Stars.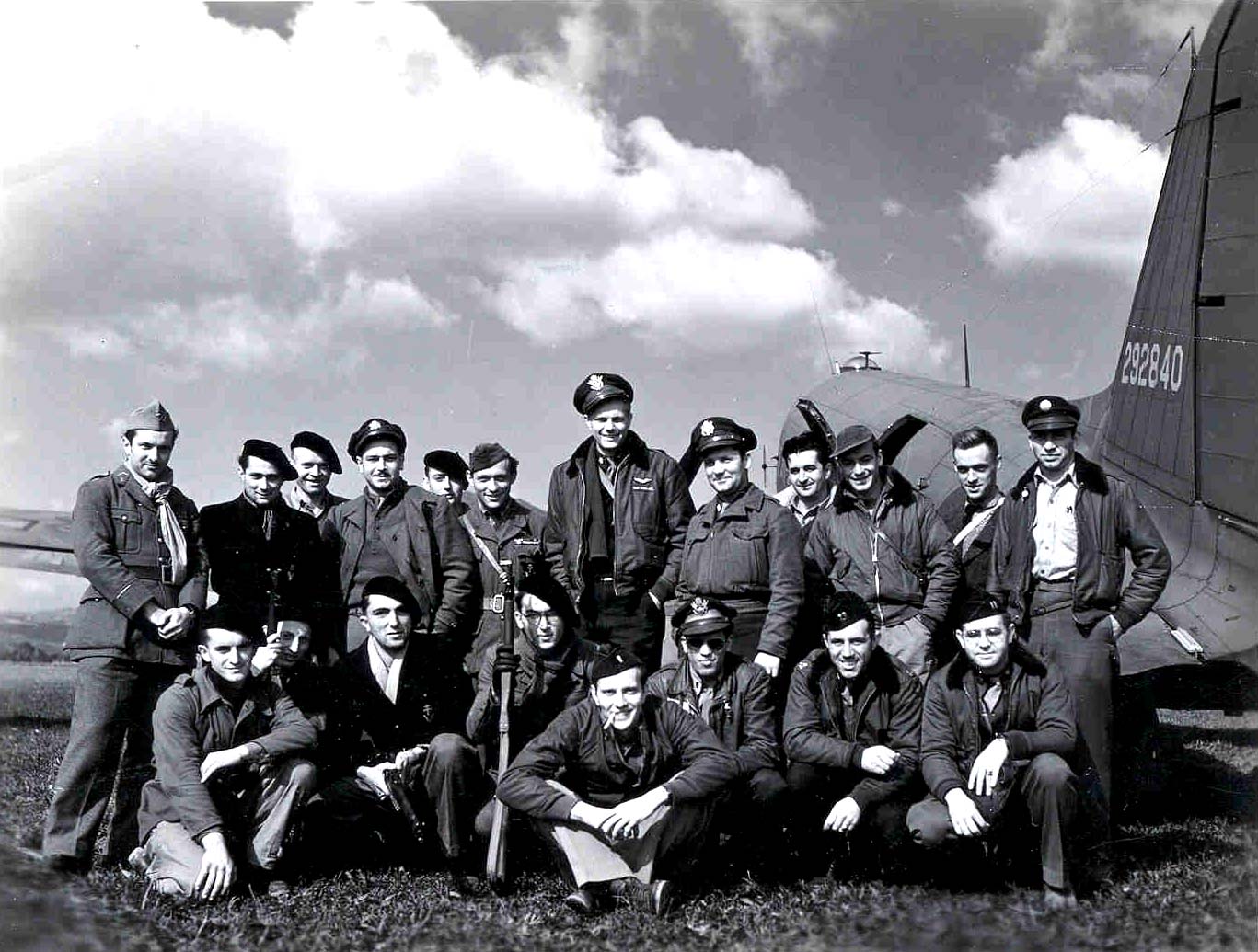 The "CBI" crew and passengers are shown below in November of 1944 just prior to departing to the Far East. Notice the 89 mission markers! By war's end the plane would easily pass the 100 missions test. The plane is B24 42-63980. Click here for Special Orders dispatching the crew and passengers to the Far East.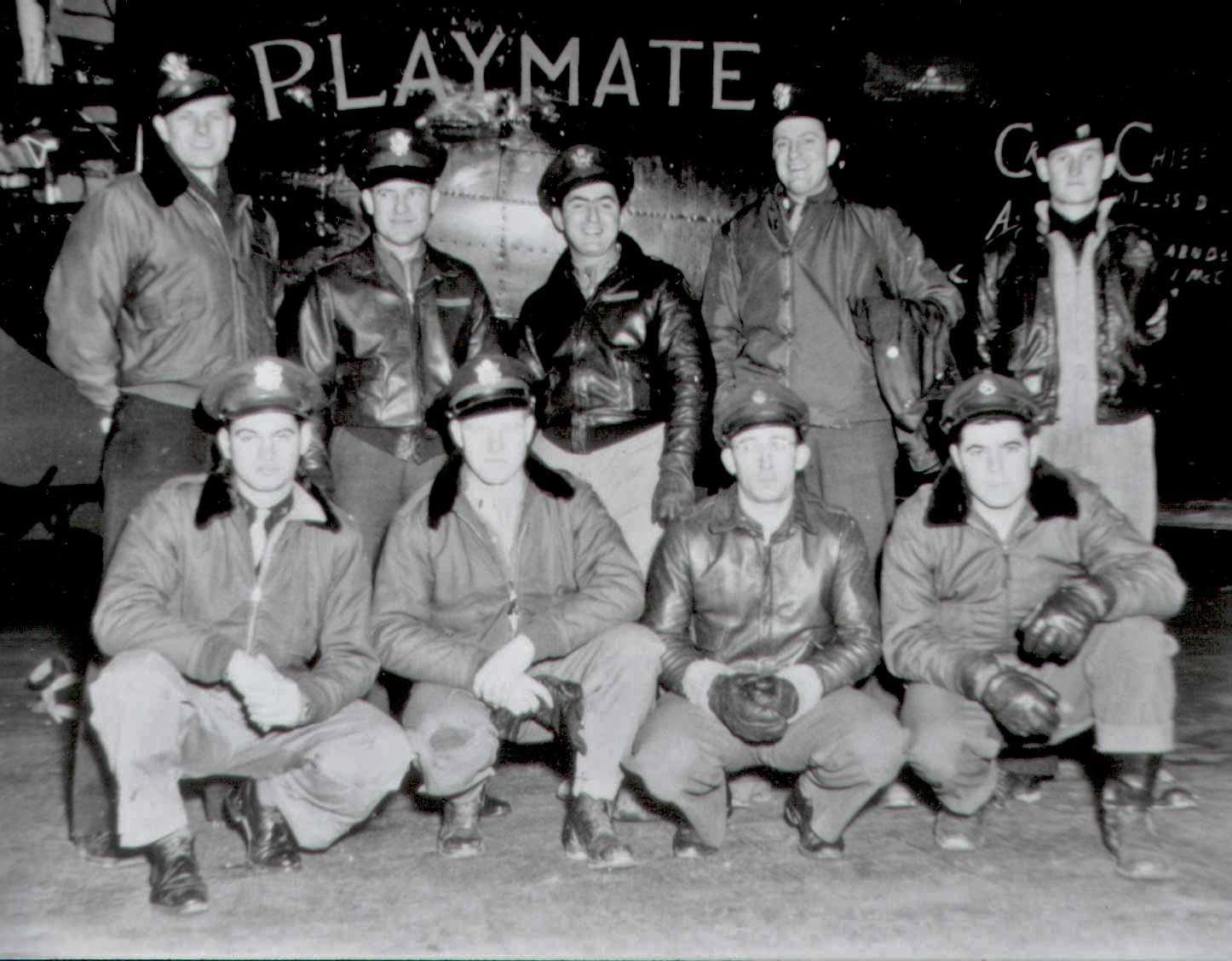 And on their return to the UK in January of 1945.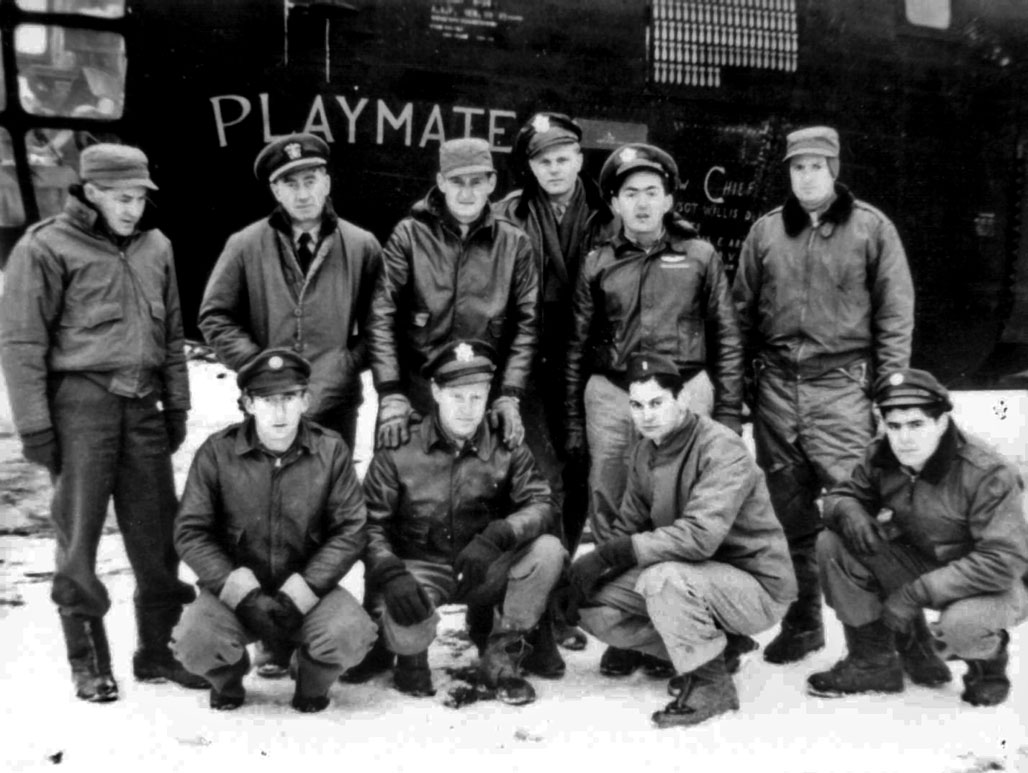 Click here to download Rudolph's Far East Tour pictures (7meg).
Errata: MR 101 is the only Carpetbagger mission filed using the RAF format.
Agents Inserted/Attempted:
MR 0372 (4) DZ Peter 79


Additional Crew Data sources:
Rudolph Crew C47 Mission Reports
Rudolph
Crew Personnel Files
Rudolph Crew B24 Mission Reports
Group-Related Downloads:
AAFRH-21 "AAF Aid to European Resistance"
Allied Leaflets Index
"Carpetbaggers" by Parnell
Carpetbagger C47 Missions (Jul-Sep 44)
"They Flew by Night" editor Robert Fish
Serial Number Index of B24s
Station 179 Operations Log (handwritten Apr44-Jul45)
Station 179 Operations Log (transcribed Sep44-Jul45)

Available on Request:
Group Mission Reports Jan-Sep44 (On disk $12ea - $10ea via Paypal)
"Chronology of SOE Operations with the Resistance In France During WWII" by Foot & Boxhall
"Spies,Supplies & Moonlit Skies Vols 1&2" by Ensminger (On disk $12ea - $10ea via Paypal)